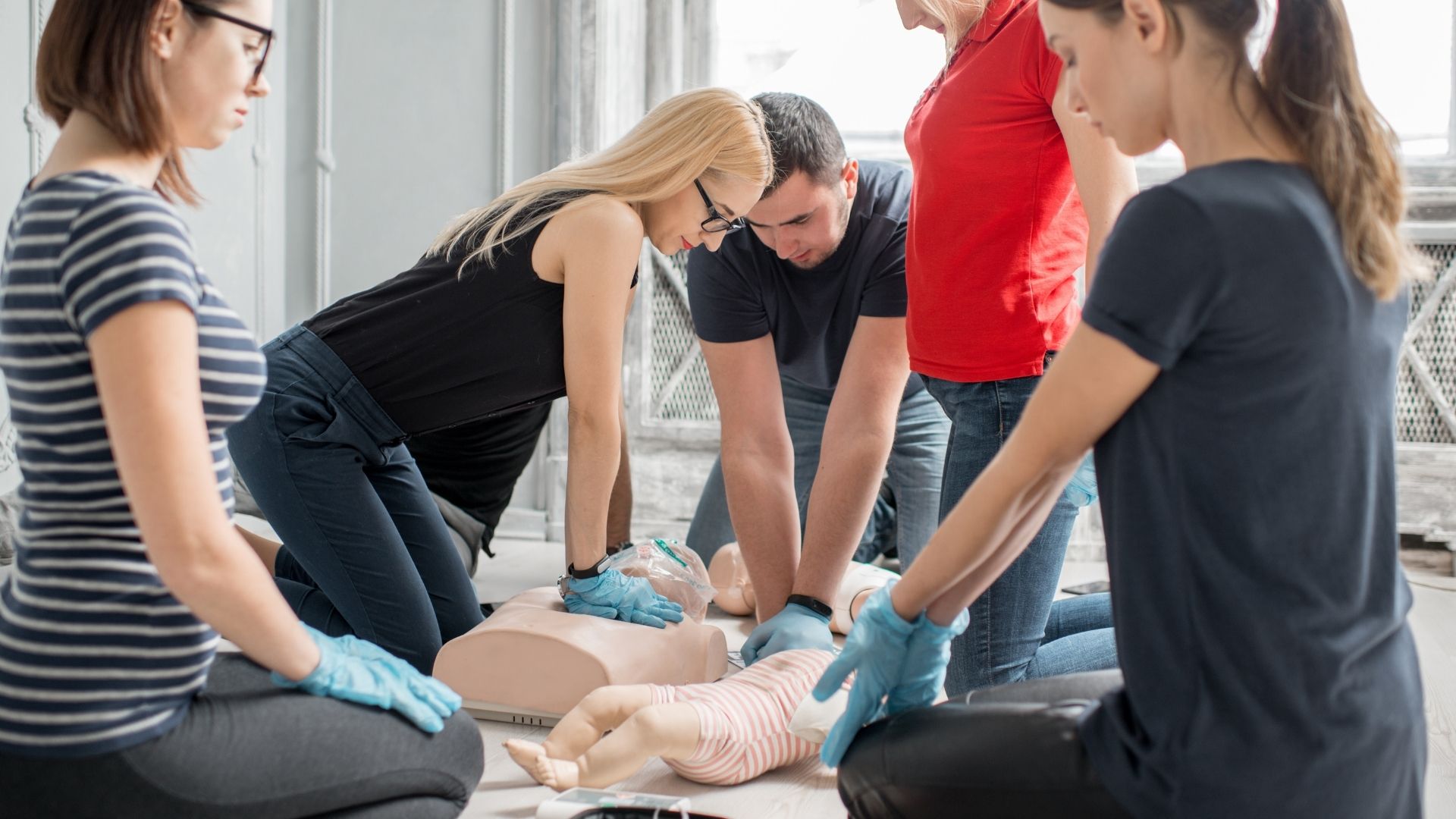 A common question we hear is, "What is the average cost of CPR certification Classes in Boston?". So we're going to break that down for you here today. According to the CDC, around 350,000 cardiac arrests occur in out-of-hospital environments, 7 out of 10 of which happen inside the home.
With such staggering numbers in mind, it's no wonder that 65% of Americans have received some CPR training in their lives. However, only a small percentage of those people are actually up to date on their training.
Thankfully, those who do wish to renew their certification have the opportunity to attend online, in-person, and blended classes (a combination of taking the class online and demonstrating the acquired skills to an instructor in person). Plus, with different fees available, everyone can choose the most suitable option that fits their requirements best.
So, what is the average cost of CPR certification classes in Boston? Continue reading to see what's included in different CPR classes, as well as what you can expect to pay for your accredited CPR certification card in Boston.
Who Needs Affordable CPR Certification Classes in Boston?
City officials in Boston have not imposed a mandatory possession of a CPR certificate. However, many employers in the state of Massachusetts ask their employees to be trained in CPR and have a certification card.
It goes without saying that medical professionals and healthcare workers are obligated to be CPR-certified — for other profiles, it's up to the employer to ask their employees for a CPR certificate. If you are asked to have a certification card in CPR, you can sign up for the blended model, which allows you to take the class online and then present your skills to an instructor in person.
Whichever class model you choose, you'll get your CPR certification upon completion, and the same will be in effect for the next two years. After that time, you'll need to go through a renewal, process which is pretty standard and straightforward.
The American Red Cross, which is a highly-estimated health organization, offers several CPR classes in any of the aforementioned models, and so does the AHA (American Heart Association).
The Average Cost of CPR Certification Classes in Boston
Enrolling in a CPR class in Boston is easily the best thing you, as a bystander, can do to help someone regain consciousness and start breathing again. The AHA and the American College of Cardiology, together with the Heart Rhythm Society, published a study showing one-third of Americans tend to faint. In that case, if someone happens to faint in front of you, CPR can be the method that brings them back to consciousness.
To become CPR-certified, you need to complete a course that usually costs $19,95 for the basic CPR/BLS training. However, the prices of CPR classes differ depending on the service provider, the location, the materials needed, as well as the CPR content.
Of course, additional materials like flash cards are always welcome, but they only add extra fees to the price. You can always stick to the course materials provided by the CPR certification institution.
Workplace CPR Certification
To be compliant with OSHA's workplace safety requirements, employers in Massachusetts are advised (but not legally obligated) to have at least one employee that's trained to give CPR. The Workplace CPR certification is the most suitable option for potential employees whose employers require them to possess a CPR certificate for employment purposes.
Average cost: From $20-$55, depending on the service provider.
Pediatric CPR Classes
Healthcare workers, medical professionals, and childcare social workers are required to be trained in CPR, especially in pediatric CPR. Besides, nannies, volunteers, personal chefs, or any other non-medical staff working with children under 8 years old are highly recommended to hold a CPR certificate.
Average cost: From $25-$40, depending on the CPR training service provider.
CPR And First Aid Certification
Other than standard CPR training, service providers like the American Red Cross and the AHA, as the leading health institutions in the U.S., offer a combination of CPR and first aid training. By taking a CPR & First Aid class, participants will learn how to offer treatment to bleeding victims, victims of trauma, fractures, and so on.
This type of CPR is necessary for first responders, firefighters, and healthcare workers.
Average cost: From $40-$60.
Basic Life Support Training
Basic Life Support, BLS in short, is a compulsory certification for individuals in the field of medicine and healthcare, as well as the emergency medical staff. Participants in a BLS class will learn life-saving skills and techniques and how to use an AED (automated external defibrillator) and other ventilation devices.
Average Cost: From $60 to $80.
From what we described so far, price-wise, you can see that CPR courses in Boston can cost anywhere from $20 and up to $80. Yet, prices can go even higher depending on the type of CPR and the materials used. They can also be influenced by other factors like geolocation.
However, the good thing about CPR is that anyone can take an online class to learn how to do it — it's the most budget-friendly option.
Which Type of Employees Need CPR Certification Classes in Boston?
As we mentioned, CPR training isn't mandatory in Massachusetts, but it's highly recommended, especially for the workspace. In fact, workspace CPR is the ultimate lifesaving technique to perform until emergency teams arrive on the scene.
Other than medical professionals and healthcare workers, the following employee profiles are also strongly encouraged to be CPR-certified in Boston:
Security staff and guards
Jailors and prison personnel
Nurses and nursing assistants
Personal trainers, coaches, and fitness instructors
What Will You Learn in a CPR Class in Boston?
In essence, participants in CPR classes in Boston will have the opportunity to learn how to detect and recognize different emergencies, from choking to cardiac arrest. Moreover, partakers will also be acquainted with the general recommendation by the AHA on emergency CPR and first aid. In general, these recommendations revolve around calling 911 first and then performing hands-only CPR.
Participants in a CPR class will be taught the following:
Cases of immediate cardiac arrest
Treating a conscious choking child (1 to 7 years of age)
Treating conscious choking using an AED (automated external defibrillator)
The importance of PPE (personal protection equipment)
The basics of CAB (compressions, airway, breathing).
Among other topics, partakers in a CPR class will be familiarized with the Good Samaritan Laws and the Chain of Survival. The above viewpoints of a CPR class will be presented by a licenced instructor, and participants will be given real-life examples.
At last, attendees in Boston will be asked to complete a final exam, and with a completion score of a minimum of 70%, participants will be granted their CPR certificate. However, if they fail to secure the minimum score to pass, participants are allowed to retake the test. To complete the exam, partakers will be asked to answer multiple-choice questions.
Knowing The Average Cost of CPR Certification Classes in Boston
Whether your employer requires that you obtain a CPR certificate or you simply want to learn CPR for your own sake, online CPR classes are your best option.
Straightforward and uncostly, online CPR classes will deliver the same knowledge as in-person classes, with the added bonus that you won't have to travel to a particular destination to attend the class — you can do it from the comfort of your home.
As we mentioned, Massachusetts has not made it compulsory for employees to be CPR-certified, but, city officials and almost all employees urge people to learn how to perform CPR (especially with staggering numbers of annual cardiac arrests occurring in out-of-hospital conditions in the U.S.)
The bottom line is, CPR classes, whether online, blended, or in-person, will teach you how to help save a life until medical professionals arrive on site. Now you should have a better understanding of the average cost of CPR certification Classes in Boston.